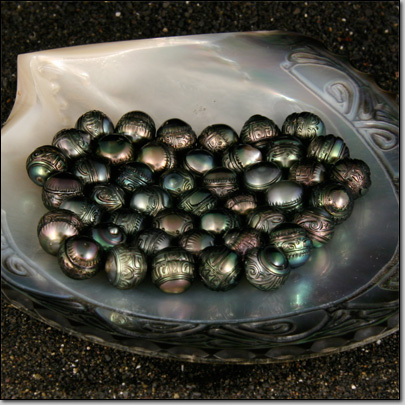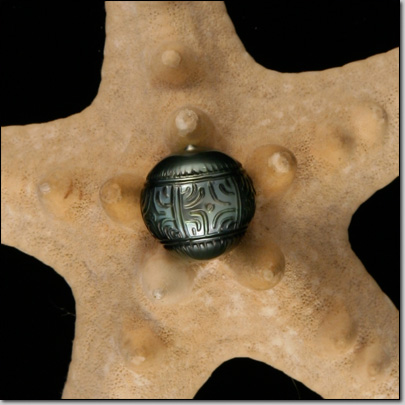 Your pearls are truly unique and exquisitely carved. The rich colors complement the beautiful designs and together add a special touch to my necklaces. With so many beautiful pearls to choose from, I could have felt overwhelmed if not for your ability to guide me through the selection until I found just the right ones. Thank you.
Therese V. (San Jose, CA)
I just visited your website and I must say, first of all, that your designs are absolutely beautiful! I've been in the pearl industry for three years and I'd never seen carved pearls as well-crafted and unique as yours look in the photos.
Valerie E. (Beverly Hills, CA)
I, as a Tahiti lover, always enjoy wearing black pearls. Your selection of carved pearls is extraordinary, from tropical fauna and flora to traditional Marquesas designs. These pearls have a nice combination of unique designs and beautiful luster. It makes for truly one of a kind jewelry.
Ayumi K. (Japan)
I'm wearing my bracelet today! I just LOVE it. It is so super and unique. I'm a "pearl affectionado" and this is a perfect addition to my collection. Thank you so much. I know I will wear it often. Your site is beautifully done. The pearls are gorgeous.
Marilyn B. (Brick, NJ)
Votre site est splendide, un vrai régal des yeux. J'ai hâte de commander un collier chez vous.
Valerie G. (France)
It is amazing the amount of time I can spend looking at all of those beautiful pearls. The longer you look, the more you learn about the colors and textures. They really are gems with so much character and depth.
Liba S. (Haymarket, VA)
I just want to inform you that the dolphins and turtles pearls arrived safely yesterday I am very very pleased with them.
Charlotte J. (Denmark)